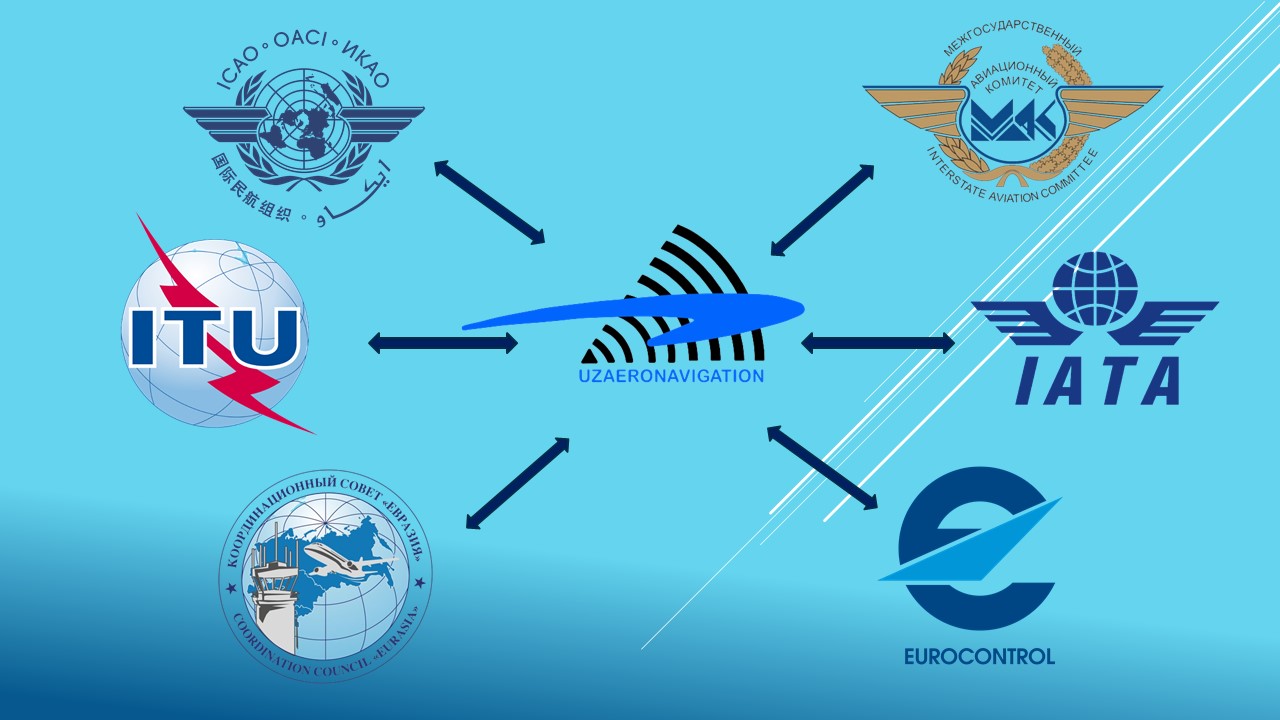 State Unitary Enterprise Center "Uzaeronavigatsia" in the field of providing air traffic services and radio technical support for flights interacts with:
The International Civil Aviation Organization (ICAO) is a specialized agency of the United Nations that establishes international standards for civil aviation and coordinates its development in order to improve safety and efficiency.
The International Air Transport Association (IATA) is the primary mechanism for collaboration between airlines to promote safe, reliable and cost-effective air travel for the benefit of the world's consumers.
The International Telecommunication Union (ITU) is an international organization that defines recommendations in the field of telecommunications and radio, as well as regulates the international use of radio frequencies.
Eurocontrol (EUROCONTROL) is a European organization for the safety of air navigation, founded with the aim of developing a pan-European air traffic management system within the framework of the Single European Sky project.
The Interstate Aviation Committee (IAC) is a council established on the basis of the Interstate Agreement on Civil Aviation and on the Use of Airspace, concluded by 12 newly independent states, to maintain unified aviation rules, airworthiness standards, a unified certification system for aviation equipment and its production, international categorized airfields and their equipment, independent investigation of aviation accidents, coordination of civil aviation development issues and harmonization of national programs for the development of air traffic management systems.
The Eurasia Coordinating Council is a council of participating countries established in 1999, the purpose of which is to increase efficiency in solving problems between the ATM / ATFM authorities of neighboring states, to develop agreed proposals for national aviation administrations on state regulation in the field of air traffic management. Permanent members of the council are: Azerbaijan, Armenia, Belarus, Kazakhstan, Kyrgyzstan, Russia, Tajikistan, Uzbekistan.